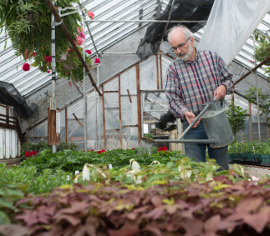 Knowing in advance what customers will want during the growing season is a challenge that requires the owners of Ormsby's Garden Centre and Landscaping on Hwy 26 and Howard Florist and Greenhouses on Margaret Street to follow lifestyle trends.
The influx of homeowners from the GTA into the Meaford area, the growing number of millenniums, changing lifestyles, and the wealth of information readily available on social media and the internet are all factors that local greenhouses, garden centres, and landscapers have taken into account while ramping up for their busy spring and summer seasons.
Today's consumers have good insight, according to Ormsby's co-owner Carol Ormsby. "They hear, read, and follow social media and generally they already know what they want when they come into the garden centre," she says.
"There is a growing number of millenniums in the area who are into urban farming. They want to eat more healthily, grow some of their own food and cook from scratch. Herbs, for example. We used to carry the basic cooking herbs. Now we carry a wider selection. And, there is a growing number of males ages 17-29 asking for seeds to grow peppers. The challenge for us is to keep up with trends and address the needs."
Changing lifestyles at the same time are impacting market demands year round, according to John Howard of Howard Florist and Greenhouses.
"We are seeing a demand for flowers, plants, and trees to complement year-round living spaces," he says. "There is always a demand for annuals and perennials and there is still a demand for cell packs. Our greenhouses are busy at this time of the year preparing bedding plants," he said. "However, what might have been summer and weekend homes in the area are becoming year-round homes for many GTA residents," he says. "The trend is now toward big, and potted, and in bloom."
Ormsby's Garden Centre and Landscaping is a family-based business. Ken Ormsby and son Mike handle the lawn maintenance, landscaping and design, and interlocking stone installation parts of the business. Carol manages the perennials, herbs, annuals, trees, evergreens, shrubs, and giftware.
John Howard, Alexis Perrin, and Gord Howard have operated their business since 2015. John is a graduate of the Niagara Parks School of Horticulture and manages the business's greenhouses. Alexis is a certified florist. Gordon is a Canadian Armed Forces (CAF) reservist and former CAF member, and oversees the business end of Howard Florist and Greenhouses.
Photo Cutline: John Howard of Howard Florist and Greenhouses monitors greenhouse bedding plants that must mature neither too early nor too late for the coming growing season.