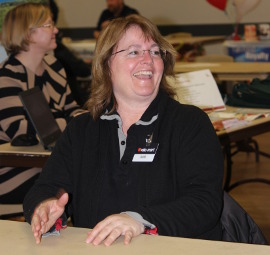 The Meaford-St. Vincent Community Centre was bustling for the annual Meaford and area job fair held on Wednesday March 7.
Those who attended included a few hundred job seekers and more than 30 employers from around the area, both local and regional.
Some of the big-name employers included Blue Mountain Resort, Scenic Caves Nature Adventures, Ice River Springs, Chapman's Ice Cream and Cranberry Resort.
Smaller local players included Invisible Fence, Dairy Queen, the Meaford Subway and McDonald locations, and Bill's Valu-mart.
Interestingly, with economic development people loudly declaring there's a severe labour shortage in this region, most of the employers were surprised to be asked whether finding people is a problem.
Ray Sugars, from Invisible Fence, said he wouldn't speak for any other company, but he stated he wasn't suffering from that challenge. Finding applicants wasn't the issue, he said. Finding the right people is, Sugars said.
He had also attended the Regional Job Fair in Owen Sound last week, where he said he received about 25 resumes. Most of them were entirely unsuitable, Sugars indicated, with only three or four he was considering contacting.
Sugars said most of the people were looking for seasonal or part-time work, while he was interested in hiring permanent workers who could "help grow the business."
Invisible Fence supplies and installs systems to keep dogs and other pets within designated boundaries on their owners' property, he said. Essentially, the job involves playing with dogs, Sugars said. He suggested that shouldn't be a hard requirement for job seekers, but it was.
He also said he wasn't impressed at the number of people attending the job fair
Barb MacDonald from Bill's Valu-mart said the store's main problem revolves more around retention of staff and finding suitable people than attracting applicants. She was reluctant to agree there was an outright labour shortage.
The nature of the grocery store business isn't particularly compatible with flexible hours, she said, which many people express an interest in. The store is open seven days a week and most holidays, which means the staff schedule has to be more rigid. The store doesn't allow people, for instance, to provide what hours they are available.
MacDonald openly expressed doubt about there being a labour shortage. Instead, she suggested a wide range of jobs on offer in the area means people can be picky about what they accept. She also questioned whether the labour numbers are taking into account the people who simply "don't want to work."
The proof that some of those comments about potential workers being selective is correct could be seen simply by watching which employers were attracting the most people.
Valu-mart was attracting a slow but steady stream during the first hour of the job fair, while others such as McDonald's and Subway, were not busy at all. Several gardening and construction companies were also present and attracting few visitors. Blue Mountain Resort and Cranberry Resort were doing a somewhat brisker business.
Alan Boivin, one of the owners at Sail restaurant, said his biggest challenge was hiring workers who can drive. Interestingly, he said there's a surprising percent of people in Meaford who don't have a driver's license, much less a vehicle.
He said it's easy to work around the lack of a vehicle, but many of his positions are not exclusive to the restaurant, but instead involve the mobile end of the business. That's the food truck and trailer, as well as catering, Boivin said.
Company vehicles are available to staff who don't have their own, but that doesn't matter much if staff simply can't drive. It presents a logistical nightmare, Boivin said, and uses up a lot of company resources.
He said last summer he hired a person looking for a little extra work who did nothing but drive other staff to the remote locations.
He's also having some trouble finding qualified cooks, Boivin said.
Photo:Barb MacDonald of Bill's Valu-mart shares a laugh at the Meaford Job Fair on March 7.