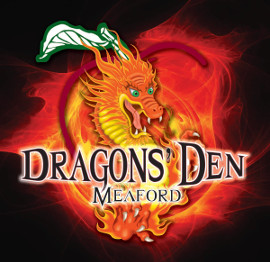 The Meaford Chamber of Commerce will present the 9th annual production of Dragons' Den Meaford on Wednesday, October 25, at Meaford Hall.
"This year's event promises to be bigger and even more exciting than ever," said organizers.
Modelled after the popular CBC television program, Dragons' Den Meaford is a unique spin-off event that has kick-started numerous local businesses since its inception nine years ago. This event has assisted many start-ups and expanding businesses, and over $200,000 in cash and prizes has been injected into Meaford's economy since 2009.
Application forms are available for pick-up at the Meaford Chamber of Commerce at 13 Nelson St. W. or can be downloaded and printed from MeafordChamber.ca. All application forms must be received by the Meaford Chamber of Commerce no later than September 27 at 12 p.m. The application package will provide details about how to apply to be a contestant on Dragons' Den Meaford and the criteria for selection of contestants.
If you have any questions or require any additional information please contact the Meaford Chamber of Commerce at 519-538-1640.