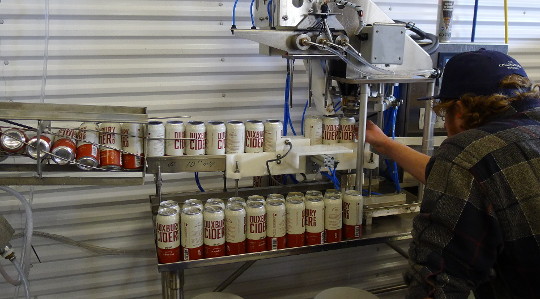 Last week the Ontario government announced new program supports they say will help Ontario's rapidly growing small distillery and small cider industry.
"Today Charles Sousa, Minister of Finance and Jeff Leal, Minister of Agriculture, Food and Rural Affairs, announced the details of the Ontario Small Cidery and Small Distillery Support Program," said the province in a March 7 media release. "The program will provide eligible businesses with support to grow and scale up their operations, including hiring more staff and purchasing new equipment."
The province says that the program builds on previously announced initiatives to support small cider and spirits producers, such as permitting spirits manufacturers to have a bar or restaurant at each of their licensed manufacturing sites, and launching the sale of cider in grocery stores. Additionally, small spirits producers will soon be able to deliver directly to bars and restaurants, creating more exposure for their products.
"Our government is committed to helping small businesses thrive. This new program will further grow Ontario's food and beverage industry by supporting small cideries and small distilleries to scale up, creating jobs in local communities and laying the groundwork for future success," suggested Jeff Leal, Minister of Agriculture, Food and Rural Affairs and Minister Responsible for Small Business.
Under the newly announced plan, the province will invest $4.9 million over three years for the Small Cidery and Small Distillery Support Program. Eligible cideries will receive up to 74 cents per litre and eligible distillers will receive up to $4.42 per litre on eligible sales, to a maximum of $220,000 per year per producer.
For Meaford-based cider producer Duxbury Cider, the support program isn't perfect, but it's a start.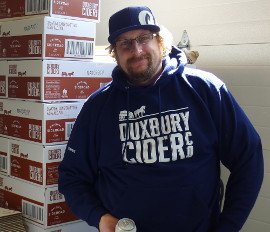 "We are happy at the announcement of the new Ontario Cider Program and view the announcement as the first step in treating the growing Ontario Craft Cider Producers equitably in the marketplace," Duxbury Cider Co. owner James McIntosh told The Independent. "The Ontario Craft Cider Association has been asking the Ontario government for tax parity with the Ontario Craft Brewers for over four years now. Ostensibly this new program is a result of the request put to the Ontario Liberals by Bill 110 Growing Ontario's Craft Cider Industry Act, 2015, that made it through the Legislature but that is now stuck in the Standing Committee on Regulations and Private Bills. In that Bill, co-sponsored by Liberal MPP Arthur Potts and Conservative MPP Sylvia Jones, is the stipulation that Ontario Cider be treated equally as Ontario Beer."
McIntosh says that as cider and beer are sold, marketed, and distributed the same way, the tax disparity between breweries and cideries is hurting the potential of the Ontario Craft Cider producers to compete not only globally but also domestically.
"The tax charged to the producer on Craft Beer in Ontario liquor stores is approximately 22%, whereas for Craft Cider it's around 56%. In a world where beer and cider are on the shelf side by side, contain roughly the same alcohol content, and are packaged in the same volumes, the disparity to the producer is very noticeable. As a cider producer it is frustrating to know that we use 100% Ontario ingredients supporting of our local economy where as breweries only use local water and sometimes local hops, yet we are taxed more than twice as much."
McIntosh says that the reason for this disparity is that there is no solid understanding of cider production in the Ontario legal/tax lexicon.
"We produce like a wine, and our production costs are higher like a wine, but we sell and market like a beer, yet the Ontario government saw fit to lump us in the wine tax department, and not even at the VQA rates, but at the foreign rates. We are really getting the shaft in all areas: higher taxes, higher production costs, forced to compete with beer," said McIntosh.
According to the province, in 2015-16 LCBO sales of craft ciders grew 54 per cent over the previous year, with sales totalling $5.1 million. There are over a dozen small distilleries in Ontario communities. In 2015-16, total sales at small Ontario distillers' on-site stores and in the LCBO were $5.5 million -- 62 per cent higher than the previous year and significantly outpacing the overall spirits category.
In spite of its shortcomings, McIntosh says that the supports announced last week will help his small cidery.
"Yes, this program will help immensely. As we are just getting comfortable in our new production facility we have further business plans that will help us grow and this program will accelerate our ability to do that. It will also allow us to ramp up production and leave us with some extra to build our distribution," McIntosh explained.
McIntosh has been making cider for well over a decade, and his dedication to the craft has seen his Duxbury Cider Company reach some major milestones in recent months.
"With the recent addition of a canning line we have introduced our three ciders, Heritage 1650, Original Sideroad, and Tiled Barn Hopped, in 473ml cans. We have been in the LCBO with our Sideroad Original for three months now and are continuing to add more stores to our distribution. We hope as we grow we can introduce the other two ciders to the LCBO listing as well. We have added two part-time sales positions, and three part-time production positions to our operation, we hope to grow these positions to full time as we grow ourselves," McIntosh explained. "Our next major step is the construction of our on-site retail and tasting facility although the plans for that are still on the drawing board. Our biggest challenge to date has been finding the time to dedicate to our growth plans and working with the smaller margins received in Ontario for the sale of our products."
Asked what the province could do differently in order to provide better support to the growing industry, McIntosh says it might help to treat cider producers more like craft brewers.
"The province created this as a program similar to VQA. This means that our business will have to apply to receive some of our tax back as a rebate. Ontario craft breweries do not have to do this, they are charged less tax monthly on their remittances. Ontario Craft Cideries will still pay the current high rates of tax monthly, and then apply to get some of it back quarterly to a maximum amount annually and at a capped production capacity. The breweries are capped at 5 million litres a year, cideries are capped at 3 million litres, however the rebate begins to reduce on a scale at 1.5 million litres," McIntosh explained. "It would be more equitable for the Ontario government to offer us the straight tax flow through that the breweries are receiving now and to cap us at a similar volume, but we will work on that for the future. They haven't heard the last from us."
McIntosh notes that while the new supports announced by the province will help his business, he says it also maintains inequity in the marketplace.
"While we are happy with the program we also recognize that it maintains inequity in the marketplace as the status quo and drives a wedge between the growth potential of our industry and our capacity to support the Ontario apple growers, hire workers, and build a lasting industry in Ontario that has many, many other economic benefits attached to it," said McIntosh. "To be frank, we need to recognize that the Ontario government is out of money and trying to fund huge programs. Their answer to the growth and economic benefits that Ontario Craft Cider has the potential to bring them is to create another program to manage our growth and put a limit on it. We are happy that they have at least recognized that we are treated inequitably, have decided to act on that, and we are very grateful for the rebate, but we also must now look beyond that. We're not big bad business churning out cheap alcohol at bottom basement prices in order to enable bad habits, we are producing artisanal craft beverages that cost more and are consumed by responsible adults."