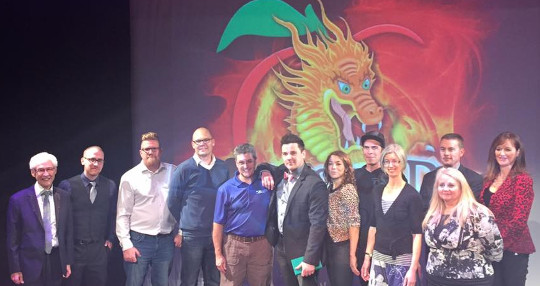 The 8th Annual Dragons' Den held on Wednesday, October 26, proved that the fount of entrepreneurial creativity spouts stronger than ever in Meaford.
Each of the five aspirants presented business ideas that were inspired and viable, a fact that was recognized by the Dragons who spread their rewards pretty evenly among them.
The panel of Dragons, as well, was a balanced indication of the business acumen in our community. Lawyer April Stewart, founder of Landlord Legal, whose practice specializes in representing landlords in tenancy issues, returned again this year, but the other Dragons were new to the panel. Cindy Gretton, who runs the largest property management in the region, E & H Property Management out of her headquarters in Thornbury, was the Dragon who provided the reality check perspective to all contestants and wasn't afraid to put them on the spot with the hard questions they should ask themselves. Rick Lorenz, manager of the Meaford I.D.A. pharmacy is relatively new in town and determined to be an active member of the community, something he demonstrated immediately after opening his store by becoming an active member the board of the Chamber of Commerce and further advanced by offering assistance to new businesses as a Dragon. Ross Kentner, recent recipient of a Lifetime Achievement award from the broadcasting industry, is well known not only as the manager of Bayshore Broadcasting, a company whose support of Meaford causes is consistent and impressive, but as a Meaford boy made good who believes, as he commented, that "Meaford lies somewhere between the Garden of Eden and the Centre of The Universe".
The Dragon who most represents the value of this annual show was Darryl Hindle, CHO (that's Chief Hydration Officer) of Quench Buggy. He was twice a contestant on the show and won the Audience Choice Award his second time around, and has gone on to impressive success. His company, which provides rentals and sales of water dispenser vehicles for large events, now operates internationally. A true success story, he was probably most qualified to judge the contenders for this year's prizes, which amounted to $17,950.00
The first pitch came from CTRE Productions, a partnership with Chris Taylor and Russ Ellis who specialize in creating video and particularly streaming live video events. The sense of teamwork between the partners was evident. As they took turns outlining their business it was clear that each brings something special to the table and together they have created a unique and impressive business start. They explained that they worked "under the radar" for two years to be sure that they knew what they were doing before taking this step of reaching out to the larger community. The Dragons were very supportive and they ended up being the overall winners of the evening. One concern that came from Cindy Gretton was that as their business expands they may have trouble with staffing, as it is a relatively specialized field. But Chris set those concerns to rest, explaining that they are working with Georgian College and, not only that, "the pool of talent in this area is deeper than you would expect". He also noted that they intend to take advantage of some of the great abilities that exist in the local retirees. Ross Kentner, as manager of Bayshore Broadcasting, was anxious to consult with them because he sees a symbiotic relationship between the two businesses.
They were followed by Georgie Donais, who has recently opened Mutable Arts, a dance studio on Sykes St. S. She illustrated her pitch with a few elegant dance moves and the slides shown during her presentation showed that she offers a lot to young aspiring dancers as well as adults. She emphasized that she puts the focus on personal growth rather than competition. Some of the unique dance aspects that she offers are circus art and aerial silks, hanging from silk scarves anchored to the ceiling. That made April Stewart a little nervous and she wanted to be assured that there was adequate liability protection if someone who is as clumsy as her were to fall on their head. It also caused concern to Cindy Gretton because to create the structure necessary for the aerial dance entailed leasehold improvement costs that won't be recouped if her growing business requires a change of venue. But the overall impression of her business was that it is very community oriented, including the idea of renting the space for other uses when she is not using it for dance, and of working with other community groups to provide presentations in the form of fund raisers that give her students a chance to perform for the public. Ross Kentner said it reminded him of the opportunities for personal growth that he enjoyed as a boy when he was a member of the Meaford Community Band. While she wasn't the overall winner from the Dragons, she received the Audience Choice Award, a sure indication that our community is responding to what she is offering.
Adam McCarter's "Chaimborg Challenge" business is unique in that once the setup is complete it runs itself. It takes the methods of renowned fitness trainer Johnathan Chaimberg and applies them to an app that subscribers can use to follow their own training regimen via an interactive program. A couple of things about it worried the Dragons. One was that it is entirely based on the brand provided by Chaimberg, who is a majority partner but will have no active involvement in the business. Another was that, in his business plan, Adam indicated that he would rely on an Owen Sound company to manage the website, and this competition is meant to boost Meaford businesses. He answered that, since presenting the Business Plan, he was made aware of that anomaly and, propitiously, ran into a local contact one day down at the harbour who, it turns out, can take on the job of maintaining the site. Ross Kentner admitted that he is not well versed in cyber business but it seemed to him that the relatively small amount allotted to You Tube as an advertising budget seemed inadequate. Interestingly, the business plan is such that the Internet is expected to carry the load, along with a local website manager, to the extent that Adam plans to continue to work full time outside of the business.
Vic Barrieras' business is the opposite. It is all about service, with minimal overhead. The idea is to create for clients a complete inventory of their home and contents so that, in the event of a disaster like a fire or flood, they can easily complete the Proof of Loss required by their insurance company, eliminating a lot of hassles and possibly missed items. Vic creates a database of videos tagged with serial and model numbers of everything in the home, and keeps that record in a safety deposit box, with an annual update offered to his clients. Dragons lamented that his business plan was short on detail, including the omission of his rates, but it was clear that Vic has thought this out in great detail and his failing was in the composition of the document he submitted rather than in his planning. Cindy Gretton pointed out the irony of that, since detail is what his business is all about. But she also awarded him what may be the biggest prize of the evening in saying that she has many connections and can introduce him to several clients who would want his service. Ross Kentner suggested that appearing on CFOS Open Line with Bill Murdoch would do wonders for his business in helping to spread the word. One thing that was clear from Vic's pitch was that he really doesn't need any financial assistance for a business that is built around his own personal service, and his reputation as a longtime Meaford resident is likely to assure its success. As a result, the Dragons offered little in the way of financial assistance, but all were confident that he has a very bright future.
The most entertaining presentation came from Rob and Sharon MacLeod, a married couple with "Radicals On The Run", a business of providing customized T-shirts at special events. With a portable set up they can provide customers with designs on the spot that have a number of variables so that each shirt is unique. They work with event promoters to supply on-the-spot one-of-a-kind souvenirs at events of all kinds. They are clearly in sync with the younger generation that will be their primary market. Their pitch took the form of a dialogue and culminated in them tossing several Dragons Den t-shirts out into the audience. They ended the evening with second prize. But probably more important to the success of their business, Daryl Hindle noted that they are reaching out to the same markets and he would be happy to work with them to expand their contacts and help achieve more financing.
One of the most notable aspects of the evening was the way synergies developed between the contestants and the Dragons. Vic Barreiras' Home Inventory Service fits perfectly with Cindy Gretton's property management. CTRE's video service niches comfortably with Bayshore broadcasting's wellspring of content. The Rads on The Run mobile custom printing service fits alongside Daryl Hindle's business of providing drinking water at large events. And the other contestants are looking good too. Georgie Donais' winning of the Audience Choice Award will be a significant boost to her business and Adam McArter will be employing a local IT technician to keep his business running, while he is able to continue to live in the "place where I asked my wife to marry me."
Throughout the show, Tyler Boyle was an amiable and charismatic host, ably assisted by Dean Hollin (his "Ed McMahan").
It was an evening in which everybody won. The biggest winner was Meaford, which now can boast a new crop of imaginative entrepreneurs to help with the economic development of the town. In many ways this was the best Dragons' Den yet.