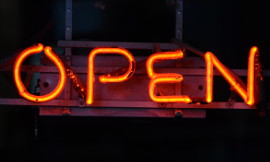 Ten local full time students ages 15-29 will start and run their own business with the help of The Business Enterprise Centre – Owen Sound & Area, and the Ontario government program Summer Company 2016.
You can get to know these student entrepreneurs at Summer Company - Staples Youth Entrepreneurship Day on Wednesday, June 29 from 11:00 A.M. and 2:00 P.M. at Staples Owen Sound.
Students will be showcasing their summer businesses while gaining trade show experience and learning to network with local residents. The event is open to the public.
Bronwyn Berry offers one-of-a-kind, hand-painted longboards and skateboards in her business Cold Water Decks. Bronwyn can paint from one of your images or you can choose from one of her original designs. Phone: 226-974-0438 | Email: coldwaterdecks@gmail.com Facebook: Cold Water Decks | Twitter and Instagram: @coldwaterdecks
Madison Broadbent's business Feathers and Paws showcases original paintings and drawings of animals native to the Bruce Peninsula. Sold as greeting cards and other gift items, Madison's artwork is the perfect gift for your friends and family visiting the area. Starting in July, you can find her on Fridays at the Farmers' Market in Wiarton, and Saturdays at the Farmers' Market in Lion's Head. Phone: 519-534-1316 | Email: feathers_and_paws@yahoo.com Facebook: Feathers and Paws
Meaford based Kyle Fraser shoots sport and commercial photography with his business, Kyle Fraser Photography. Whether you want a photo of your child's next soccer game, an action shot out at the skate-park, or need new photos for your website, give Kyle a call. Phone: 519-387-0262.
Stop in and visit Seamus Furness for some delicious ice cream from Moose Scoops. Moose Scoops is located inside Grey Roots along Grey Road 18 just outside Owen Sound. Moose Scoops will be open for business at the end of June.
Evan Lougheed's business Greenwood Turnings creates unique and custom wooden products. Select from handmade bowls, knitting spools, baby rattles and more. Evan uses high quality, food grade materials so your products can be used for decoration or dinner. Starting in July, you can find Evan on Fridays at the Farmers' Markets in Wiarton and Meaford. Phone: 519-372-1404 | Email: lougheedevan@gmail.com
Cai MacDonald is offering fresh pesticide-free vegetables through Cai's Country Foods. Cai's business also includes raising grass-fed pigs that will be available in the fall. You can find Cai's produce at Lawson's in Owen Sound from late June until August. Email: caiscountryfoods@gmail.com | Instagram: @caiscountryfoods
Josh McArthur recycles wooden pallets into home decor and furniture with his business Skiddazzle Pallet Designs. You can find Josh every Tuesday at the Keady Market. Phone: 519-375-6258 | Email: skiddazzle@outlook.com Facebook and Pinterest: Skiddazzle Pallet Designs
Chris Sager's business, Heretic Skateboards, manufactures and sells handmade skateboards using Canadian maple, and finished with original artwork and designs. Apparel is also available. Email: hereticskateboards@gmail.com | Website: www.hereticskateboards.com Facebook: Heretic Skateboards | Instagram: @hereticskateboards
Tired of cleaning out your vehicle? Kayla Smith has you covered with her business, Kayla's Mobile Car Care. Kayla's services will be available by appointment or drop-in at golf courses and business offices in and around Teeswater, Wingham, Kincardine, Walkerton, and Hanover. Phone: 519-392-6041 | Email: ksmithdetailing@gmail.com Facebook: Kayla's Mobile Car Care
Logan Wolfe's business, Logan's Lawncare, is offering affordable lawn maintenance and grass cutting services serving Kincardine and area. For exceptional services and a quality cut give Logan a call. Phone: 226-930-0411.