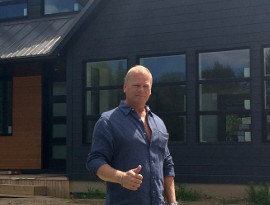 Meaford's Third Line Homes was happy to get the much anticipated "thumbs up" from Mike Holmes on Monday after the contractor and popular television personality did the walk through of his new home at the TerraceWood development touted as "Meaford's boutique healthy home community."
"It's about taking residential construction to the very next level – redefining the way homes are built," said Holmes.
Third Lines Homes is a Holmes Approved Builder. Two years ago, the two companies worked together to build a "healthy home" four-plex in Atikameksheng Anishnawbek – a First Nation Community west of Sudbury. Last year, Holmes bought the first house at Meaford's Terracewood and has let Third Line use his home as a construction "model home" to showcase the quality of the build.
The homes are toxin free, mould and fire resistant, sound and termite proof, super energy efficient and feature superior indoor air quality.
"We are delighted to get a major thumbs-up from Mike," says Paul Osborn, President of Third Line Homes. "It's a real credit to the quality of our construction and the great work of all of our people."
All Third Line homes are built with Durisol – an insulated concrete form (ICF) that does not use foam or polystyrene but instead uses a proprietary wood concrete material that creates a breathable wall.
"It's a brilliant way to build," says Holmes.
TerraceWood is a small development described by the developers as being "on a beautiful ravine - just steps to town, trails and the harbour. This boutique neighbourhood reflects an entirely new sensibility – it's about great design, simplicity and health. These original designs were created by blackLAB Architects to reflect small town Ontario with a modern twist."