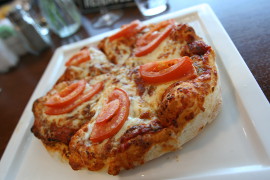 It's Saturday evening, and we're in the mood for pizza.
Earl and I are kind of fussy about pizza, and have experimented with doughs and toppings – did I mention that Earl built us a wood-fired pizza oven in the backyard about eight years ago? The problem with a pizza oven is that it takes quite a while to come up to a high enough temperature, especially in the winter, and weather is a factor as well – standing out in the snow or freezing rain is no fun. So generally we are pizza-challenged for a good six months of the year. It's the end of March, and we feel the need – the need for pizza.
Fortunately, Amici has opened just in time to feed the craving for a really good pizza. The former Pizza Delight has been freshly renovated, with local art on consignment from one of the galleries in Clarksburg on the walls. It's a friendly family-style restaurant, with pizza, pasta, and a variety of other choices like steak, chicken done as schnitzel or a stuffed supreme breast, or mac and cheese. The pasta is customizable, with your choice of four types of pasta and six different sauces, and you can add chicken or shrimp. However – we are on a mission for pizza.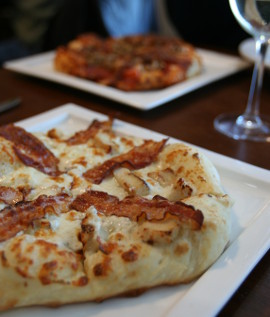 There are four pizzas on the menu: Margarita, with house-made tomato sauce, cheese, and pesto, Veggie (tomato sauce, cheese, and veggies, Chicken Caesar (Caesar sauce, chicken, cheese, and bacon slices), and New York (the meat lovers option, with ground beef, pepperoni, Italian sausage, and strips of bacon).
We went with a Margarita, a Chicken Caesar, and a New York – all were great. The crust was light and fluffy and flavourful. The toppings were fresh, with slices of tomato or slivers of onion, and a good sprinkle of herbs to add pizzazz. And best of all, two of the pizzas came with slices (not crumbles) of bacon. I find that many pizza places (especially the chain restaurants) make their pizzas too greasy and heavy – Amici makes their pizza the way we like it: not greasy, spiced nicely, and with fresh toppings. Each pizza was 9" across, served one nicely, and cost $8 or $9.
We also ordered starter salads, which were fresh and tasty, $5 for a side salad. The chef's salad had a light nicely flavoured oil and vinegar dressing which both Earl and our daughter Sydney were very happy with, and the Caesar salad with real-deal Parmigiano Regiano was good, though the dressing was a titch tart for my taste. A short but well-chosen wine list, with local wineries like Coffin Ridge also represented that complemented the food nicely, and a selection of local craft brewers of beers and cider as well as other options.
The desserts sounded decadent and delicious, however we had no room left after our pizza-thon.
Amici is also open all day, from 6 or 7 a.m. for breakfast, all the way through till 9 (Sunday to Wednesday) or 11 (Thursday to Saturday). The breakfast menu is diner-style and run by Mike Belluomini, and the lunch/evening menu is more pizzeria-style, run by Daryl Johnson, with Cathy Martin managing the restaurant.
Takeout is available, as is home delivery for $3 in Meaford, and negotiable outside Meaford. I like a restaurant that will negotiate home delivery – what a great concept for a rural community!
Amici Pizzeria and Family Restaurant is located at 334 Sykes St. South, Meaford. 519-538-6805