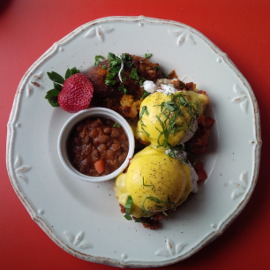 It's a sunny Saturday morning, and Earl and I are heading out to the Meaford Motel for breakfast. Earl is famous among our friends for his breakfasts, and his specialties include eggs Atlantic (eggs Benedict with wild smoked salmon instead of ham), and French toast with spices, bacon, and fruit salad.
So as far as I'm concerned, any restaurant serving breakfast/brunch has a high standard to live up to.
Those who have been here for a long time remember when the Meaford Motel was very popular for breakfast and brunch – we had been there years ago, and weren't aware that they had reopened a few months ago with a new chef. Yes, a chef, not a short-order cook.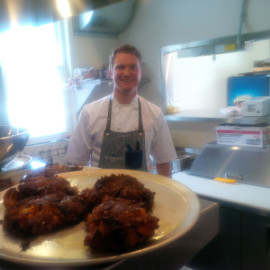 Jordan Fraser, a George Brown-trained chef, has worked at the Fairmont Jasper Park Lodge and at various restaurants in Vancouver. Now he's moved to the Meaford area and, rather than making other chefs' fare, is creating his own kitchen and menu at the Meaford Motel restaurant. He has plans to open for dinner service in a couple of months, and in the meantime, is starting with breakfast and brunch as he sources local suppliers of high-quality ingredients, like Grandview Farms.
Fraser says he'll also be working with Roy'l Acre Farms in Grey Highlands, which works with chefs to customize a garden suited to their menus, and grows the produce for their specific restaurant using only organic practices. He'll be able to visit the farm, observe the growth of the veggies and be involved in the whole farm-to-table process. And, he plans an outdoor patio area, which I predict will become a hot spot in town.
We sampled a croque-monsieur with spiced apple, Brie and peameal bacon, and the Chorizo Tomato Benediction, a spicy spin on eggs Benedict with sausage on fresh biscuits. Both were excellent.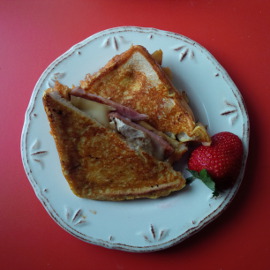 The croque-monsieur was a special that day, and was light and breezy with creamy flavours that melted in your mouth. I especially liked the spiced apple, a nice nod to Meaford's orchards, which worked so well with the Brie and peameal. It was delicious, although I would have preferred the peameal in thinner slices, as I think it works better for the lighter flavours of the Brie and apple. Sometimes a heavy breakfast is too much, and this was a perfect start to my day.
Earl started with the Benediction, and had a hard time switching plates with me halfway through. The eggs were perfect – soft poached, topped with Hollandaise and fresh basil, on a buttermilk biscuit. The chorizo sausage, in a braised tomato sauce, was house-made and tasted like it – great flavours and a nice heat, with a fresh texture as well. The Benediction also came with sweet potato hash browns (definitely going to come back just for those), and baked beans with slivers of meat.
The service was fast and friendly, and Earl and I left the restaurant thinking of various friends we'd like to come back with. Earl's breakfasts now have some serious competition - Fraser has a new energy and talent, and we're looking forward to sharing a great place to eat with our friends.
Where to find them:
Meaford Motel Restaurant
Chef: Jordan Fraser
126 Sykes St. North, Meaford
Tel: 519-538-5799
Open:
Tuesday - Friday 8 - 12 noon
Saturday 8 – 12 noon
Sunday 8 – 2 p.m.
Wheelchair accessible.
Full disclosure: We were invited to come check out the restaurant by Jordan Fraser, and tried to pay however our meals were complimentary.