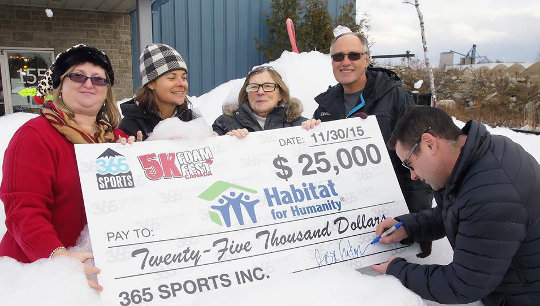 The Meaford-based company that will be bringing the worlds longest slip-n-slide slide to the municipality in July has made a major contribution to the local branch of Habitat For humanity.
Though the $25,000 donation from 365 Sports Inc. was made to the Habitat for Humanity of South Georgian Bay, the funds could be used to help any number of Habitat for Humanity initiatives wherever they are most needed.
Earlier this month the company announced plans to run their 1,000 foot long slip-n-slide down the Nelson Street hill in July.
"We have acquired full Canadian rights to this event and will operate it independently for the national market," said Jesse Fulton, president of 365 Sports Inc. "This event promotes getting outside and having the best time ever with your friends and/or family. We are all about fun events and this fell in line with our catalogue of event properties," said the company in announcing the event.
The Urban Slide as it's called, will be in Meaford on July 9, and will be "a family-friendly event open to all ages and abilities and will include a festival area complete with a beer garden, good food, the slide of course, and music all day long," said the company.