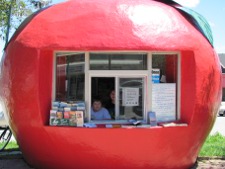 The iconic Big Apple located in the core of Meaford has been the topic of many discussions over the past several months after a For Sale sign was mounted on the structure in January.
The Meaford Chamber of Commerce received an overwhelming response from the community, clearly stating a strong desire to keep the Apple open and in its current location.
Many business owners in the area suggested that it should be re-purposed to further benefit the community, while still providing information about local businesses, and acting as the hub of activity in the downtown, especially for signature events like the BIA Sidewalk Sale and Scarecrow Invasion.
With this feedback in mind, the Chamber Board of Directors voted to maintain the Big Apple and open it over the summer months as a Business Centre. The Business Centre will offer information about local businesses, featuring businesses who are chamber members first, and then all other like businesses in the area second. Questions like, Where can I go to eat? shop? or sleep? Will be welcomed while more regional questions will be referred to the Visitor Information Centre in Meaford Hall.
Members of the Meaford Chamber of Commerce are invited to bring brochures, pamphlets and other promotional materials to the Big Apple so staff can promote your businesses to passers-by. For more information please contact the Meaford Chamber of Commerce in person at 1-16 Trowbridge St. W Meaford, over the phone 519.538.1640, via email info@meafordchamber.ca, or visit us online at meafordchamber.ca.