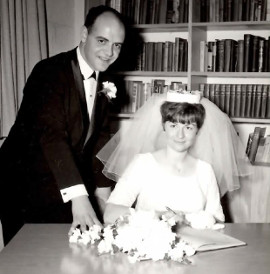 It is with great pride and joy that we announce the 50th wedding anniversary of Rich and Sharon Turner (nee Ford) on April 22.
Rich met Sharon while posted to Meaford as a young soldier who had grown up in England and Toronto. This adventurous couple accepted many military postings with fond memories of each and every location, especially Germany and Gagetown.
Following their retirements from work, they decided to move back to Meaford where they met and still live today.
On this wonderful occasion and milestone, Paul and Lori Ann along with Adina and Warren and their grandchildren Shaily, Mitchell, Feyah, Cora and Andrew wish them many more years of well-deserved happiness and health.
Congratulations Mom and Dad, Grandma and Grandad, from all of us.