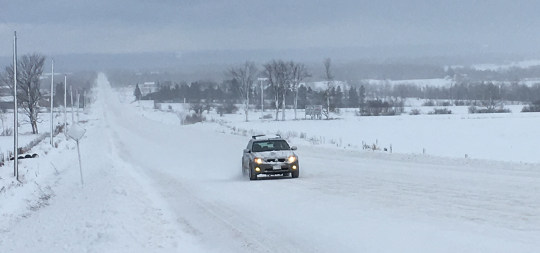 High winds and blowing snow created pockets of zero visibility and very hazardous driving conditions on area roads recently, which resulted in a number of road closures throughout the Grey-Bruce area in the interest of public safety.
On December 16, Grey County Ontario Provincial Police (OPP) responded to 65 calls for service between 6 a.m. and 6 p.m., 36 of which were motor vehicle collisions. Despite the high number of collisions, there were no serious injuries reported. This has, however, prompted police to remind motorists that unnecessary travel should be avoided during severe weather conditions in the future. Motorists also need to be reminded not to drive on closed roads.
"Driving on a closed road is not only illegal, it's dangerous. Doing so not only puts you and your passengers at risk, it puts police and all Emergency Responders at risk who come to the aid of motorists having driven on a closed road", stated Michael Guilfoyle, Detachment Commander of Grey County OPP. "There are times when motorists abandon their vehicles which also hamper the road maintenance crews' efforts in clearing the snow, causing longer delays in reopening the roads."
Bad roads and weather don't cause collisions – bad driving habits do. Remember to stay in control of your vehicle at all times. Driving too fast for road conditions is the number one cause of winter collisions. If the weather is uncertain, check the forecast before heading out and monitor the media outlets for any updates, including road closures.
For local road conditions, visit the Grey County Transportation Services website at www.grey.ca/service/taps/winter-road-conditions or by calling 1-866-266-7569.
For up-to-date winter road and weather conditions call 5-1-1 for provincial highways or visit the Grey County Transportation at http://www.grey.ca/services/taps/winter-road-conditions/.
For information on winter driving, including recommended items for a vehicle emergency kit, please visit: http://www.mto.gov.on.ca/english/safety/winterdrive/winterdrive.shtml/.