Details

Published: Wednesday, 28 March 2018 09:09
Written by Staff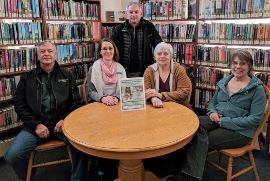 Learn how to stay safe when you encounter wild animals with an upcoming presentation at the Barn Co-operative on Friday, April 6, at 2 p.m.
Hosted by the Meaford Public Library and the Smile Animal Society, Wildlife-Human Relationships will feature two wildlife experts. Craig Todd, a Bear Technician from the Ontario Ministry of Natural Resources and Forestry will present Bear Wise, a guide to the lifestyle of bears and what to do if you encounter one. Mark Wiercinski, a wildlife biologist, will speak about coyotes, cougars, and other animals.