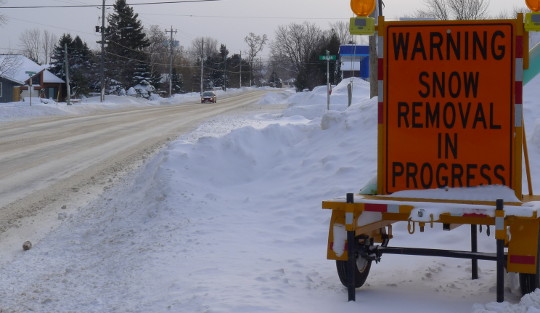 The largest snowfall this season kept municipal roads crews busy last week and over the weekend. A series of snow squall warnings were issued mid-week, and those squalls brought with them periods of low visibility on the roads, and more than a metre of snow in some areas.
The municipal roads crew started the cleanup at 4:00 am on Thursday morning (January 5), and the municipality kept the public updated on the status of snow clearing efforts with the issue of road condition updates to media and posted on the municipal website.
"Weather reports have indicated approximately 15-20cm of snow has fallen. Transportation Services staff reported snow accumulation up to one meter or more in many locations due to the texture of the snow and winds causing significant drifting," advised the municipality on Thursday morning. "Winter Control operations began at 4:00am this morning, and are continuing throughout the day, however heavy drifting and poor visibility have caused delays in road clearing. Opening road infrastructure is the first priority, and urban snow bank removal will be evaluated and scheduled as necessary."
The municipality reminded residents that cars are not to be parked on municipal roads in the winter months in order to allow full snow clearing.
On Friday morning the municipality thanked residents for their patience and advised that all plow routes had been completed and that the clearing of snowbanks in the downtown area would be undertaken.
"The Municipality of Meaford would like to extend thanks to Meaford residents for their patience and for exercising extra caution when driving over the last 24 hours. All plow routes were completed on Thursday, January 5 and staff continue to push back snow banks to reduce drifting potential. As operators become available they are being directed to snow removal from the urban area. Operators are also working to clear parking lots in the urban area to reduce street congestion," said the municipality in their Friday roads condition update.
Municipal operators continued snow removal from the urban area over the weekend.
On Monday morning (January 9) a special weather statement was issued warning that more snow was on the way followed by warming temperatures that could result in rain and slippery roads.
"Snow will affect portions of southern Ontario beginning early Tuesday morning. Snowfall accumulations of 10 to 15 cm are expected by Tuesday evening. The snow will likely change over to rain Tuesday evening as temperatures rise above the freezing mark," advised the Weather Network website on Monday morning.