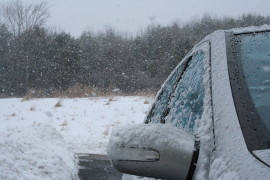 Grey County Ontario Provincial Police (OPP) remind motorists to adjust their driving habits to the current winter road and weather conditions. This is very crucial especially when conditions have deteriorated.
Remember to stay in control of your vehicle at all times. Driving too fast for road conditions is the number one cause of winter collisions.
Remember to allow extra time to travel to and from destinations.
Remember to lease extra space between vehicles.
Remember to use your full set of headlights every day during the winter months; daylight running lights are not as bright and do not engage your rear taillights making it difficult, and at times, impossible for drivers behind you to see your vehicle.
Remember to avoid sudden braking, accelerating or steering.
Finally, remember that poor road/weather conditions don't cause accidents – poor driving habits do!
For local road conditions, visit the Grey County Transportation Services web site at www.grey.ca/service/taps/winter-road-conditions or by calling 1-866-266-7569.
For up-to-date winter road and weather conditions call 5-1-1 for provincial highways or visit the Grey County Transportation at http://www.grey.ca/services/taps/winter-road-conditions/.
For information on winter driving, including recommended items for a vehicle emergency kit, please visit: http://www.mto.gov.on.ca/english/safety/winterdrive/winterdrive.shtml/.