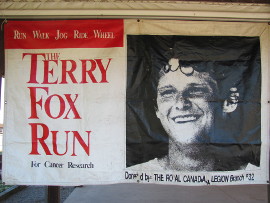 September has arrived, and for millions of Canadians that means that the annual Terry Fox Run for Cancer Research is quickly approaching. This is the ultimate autumn tradition, where families, friends, and work colleagues join together to raise money to help Canadian cancer researchers reach their important goals.
For 37 years, Terry Fox's dream of a world free of cancer continues to move forward. This year's event on Sunday, September 17, will be happening in more than 215 locations across Ontario.
In Meaford, this year's run will be held on Sunday, September 17, starting with registration at 8:30 a.m., followed by the run at 9 a.m. As always, the run will begin at the Rotary Harbour Pavilion, and there will be three route distances of one, five, and ten kilometres.
Registration can either be done online ahead of time by visiting terryfox.org, or on the day of at the pavilion. Pledge forms are currently available at Simply Unique on Sykes Street, and organizers are working to have pledge forms available at more locations. For those who are unable to take part in the run, donations are welcome and can be dropped off at Simply Unique.
The Terry Fox Run is an event void of corporate sponsorship. This was Terry's wish. Its success is due to the thousands of dedicated volunteers that organize local events, passionate participants that get involved year after year, and generous donors who know that their hard-earned money is being managed responsibly.
The Run does not charge a fee to participate, nor does it require a minimum donation or money to be raised.