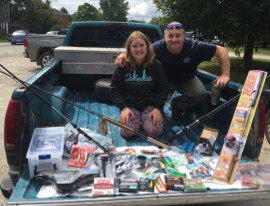 The 14th Annual U Catch 'em Charter Challenge (Meaford Salmon Derby) was held between Saturday, August 26 and Sunday, September 3.
Prizes were awarded at the Meaford Harbour Pavilion on Sunday afternoon, and the final results were as follows:
1st Place Salmon - Ken Martin's 23.2 lbs salmon took home $1,000.
2nd Place Salmon - Bill Mayes' 17.10 lbs salmon took home $500.
3rd Place Salmon - Jessie Wyant's 16.11 lbs salmon took home $300.
Top Rainbow Trout - Bob Johnson's 10.10 lbs rainbow took home $300.
Top Lake Trout - Jack Eagles' 9.6 lbs Laker took home $300.
The event's $1,000 Kid's Draw Fishing Package, provided by LiUNA 1050, was won by Kiara Ferguson!
"Congratulations to all winners and participants, we hope to see you next year!" said organizers.
The date of next year's derby will be posted on the U Catch'em Charter website: www.ucatchemcharters.com
Photo: Jeff Brattain (owner and operator of U Catch'em Charters in Meaford) with the winner of the LiUNA 1050 $1,000 draw fishing package, Kiara Ferguson