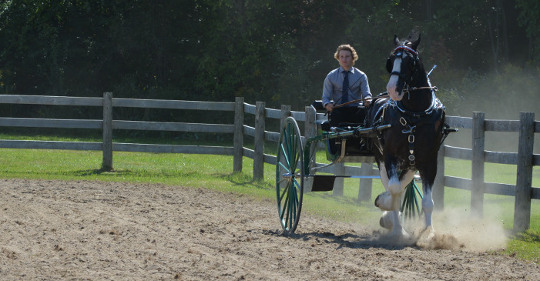 There are as many good reasons for agriculturalists like Jim Bickell to judge during local fall fairs as there are for participants to enter each year. Jim has been judging draft horse classes for as long as he has shown horses, 40 years in all.
His interest in Percherons began as a boy raising and working them on his parents' farm. Over the years, he has shown at the Royal Winter Fair and the CNE, where he gained a good reputation and in time came to be a respected judge in southern Ontario at fall fairs in Fergus, Meaford, Drayton, Mount Forest, Elmvale, and Paris.
Jim judged the Heavy Horses in Harness class during the 162nd Meaford and St. Vincent Agriculture Society Fall Fair in Meaford on September 2.
"I love doing it," Jim said. "I love to see who is raising draft horses, who is doing what with them." Entries were judged based on the confirmation of the horses, how they were driven, and their overall presentation.
Fall fair classes included saddle horse, miniature horses, heavy horses on the line, heavy horses in harness, light horses and ponies in harness, junior calf show, St Vincent 4-H calf club show, invitational 4-H calf club show, dairy show, beef show, poultry, rabbits, open sheep show, crop competition, 4-H livestock display competition, and home crafts.
Local fall fairs are a long-standing tradition that President Verla Cramp-White and her executive, directors, and junior supporters work diligently to keep going by offering a venue for individuals and agriculture societies, clubs, and associations to show and judge their horses, cattle, sheep, poultry, dogs, crafts, culinary arts, antiques and collectibles, canning and preserves, flowers, fruits and vegetables, photography, and art, as well as entertainment and activities for all ages.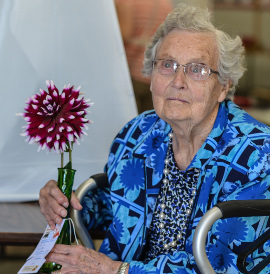 Fall is a gratifying time of year for Helen Vickers who, like Jim Bickell, has nurtured an interest in showing and competing in agriculture fairs over many years. With 62 years behind her, Helen is the longest-term exhibitor in the Meaford and St. Vincent Agriculture Fall Fair. This year, Helen's dahlia won a special award given in memory of yet another long-term supporter of the fall fair, the late Margaret Ormsby.