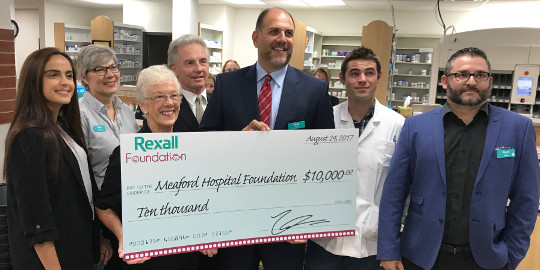 The Rexall Foundation donated $10,000 to the Meaford Hospital Foundation, to help Meaford Hospital provide better health care for patients and offer a range of improved, integrated services close to home.
The donation will go directly towards operating room upgrades at the hospital.
"The Rexall Foundation is proud to support Meaford Hospital Foundation and ensure imperative operating room upgrades are purchased," said Brian McLaughlin, Chair, Rexall Foundation. "The funding will have a direct impact and enhance the health and well-being of Meaford residents and the surrounding Grey and Bruce Counties."
"Upgrades to equipment at Meaford Hospital have been made possible by generous funding received from local businesses and members of the Meaford community, like the Rexall Foundation," said Brian Renken, Past President, Meaford Hospital Foundation. "We are extremely thankful the Rexall Foundation has generously donated funds to support the purchase of much-needed equipment for the hospital."
The Rexall Foundation has been helping build strong and vibrant communities by supporting numerous charitable organizations since 2002.
"Whether it's a community or children's hospital or a disease prevention organization, the Foundation values the role it plays in helping the delivery of numerous programs and services in Canada," said the foundation.
In 2017, the Rexall Foundation has donated nearly $600,000 to 44 charitable organizations that promote the health and wellness of children and seniors, including charities in Ontario, such as Hemophilia Ontario, Hospice Renfrew, Nova's Ark, SickKids Foundation, St. Matthew's Bracondale House, The Darling Home for Kids, plus many more local and national charities across Canada.
Photo:
Front Row left to right:
Rola Barakat, Rexall Regional Pharmacy Director; Lori Jones, Rexall Muxlow's Front Store Manager; Pauline Stanley, Pres. Meaford Hospital Foundation; Brian Renken, Past President Meaford Hospital Foundation; Paul Matteis, V.P.Pharmacy Operations Ont.; Mitch Peart, Pharmacist & Pharmacy Mgr; Mike Gatto, Front Store Regional Director