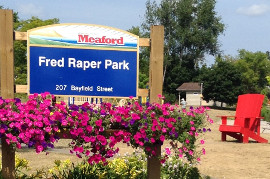 During the week of August 22 to 24, the Meaford Public Library will be hosting Story Time sessions at three of Meaford's Big Red Chairs. Come by and enjoy stories, songs, activities, and crafts in the beautiful outdoors. The sessions are free and always fun for people of all ages.
Leith Beach Big Red Chair at #359392 Grey Road 15
Tuesday, August 22 at 10:30 a.m.
Fred Raper Park Big Red Chair at 207 Bayfield Street
Wednesday, August 23 at 10:30 a.m.
Irish Mountain Lookout Big Red Chair at Grey Road 112/Side Road 25
Thursday, August 24 at 10:30 a.m.
If you have any questions about the Big Red Chair Story Times, please call 519-538-1060 ext. 1125. For more information on Big Red Chairs in the Municipality of Meaford visit www.meaford.ca/meafordchairs