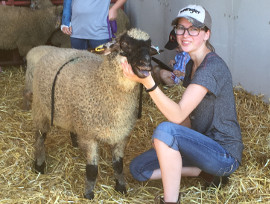 On June 30, the St. Vincent 4-H Calf Club held a showmanship meeting. The meeting was at Smart Limousin west of Meaford, and was a collaborative effort of the calf club and the Beaver Valley 4-H Sheep Club. Members of both clubs were able to learn how to show beef cattle, dairy cattle, and sheep.
Dairy heifers were on loan from Tovinler Farms of Rocklyn and sheep from the Teekins' farm from Heathcote.
Keeping with the 4-H motto 'Learning to do by doing', combinations of senior and junior members chose an animal to show first. Tips and techniques were exchanged based on each member's expertise.
After the groups had practised with all three animals, there was an option to judge a class of beef yearling heifers. The participants enjoyed lunch and heard the official placings and reasons before they focused on the business component of their meeting.
It was a very productive day and hopefully everyone was able to take something away, possibly at their upcoming Achievement Day or the Regional 4-H Invitational Show in Owen Sound.
Pick up this week's print edition of The Meaford Independent for more great photos!