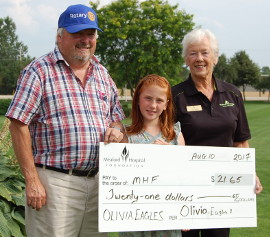 On June 30, 8 year-old Olivia Eagles attended the Canada 150 Eve Party held at the Beaver Valley Community Centre with her family, hosted by Town of the Blue Mountains, Thornbury-Clarksburg Rotary, and LE Shore Memorial Library.
Olivia thought this might be a great opportunity to raise some funds for the Meaford Hospital. So out she went, asking friends and family if they would like to donate. Experiencing a positive response she bravely ventured out to ask people she didn't know.
She was thrilled – at the end of the day she presented $21.65 to Steven Schofield of the Thornbury-Clarksburg Rotary Club and former President and Director of the Meaford Hospital Foundation. Olivia expressed her desire to help raise some funds for equipment at the Meaford Hospital.
"Thank you, Olivia! Your kind heart and community spirit are admirable and very much appreciated!" said the Foundation.
Photo L to R: Steven Schofield, Olivia Eagles, and Pauline Stanley, President, Meaford Hospital Foundation