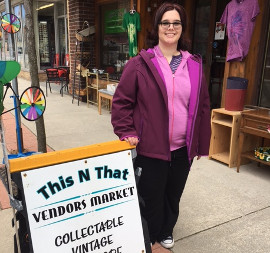 For some Meaford is simply home, for others it's a weekend destination, but for 21-year-old Maple Ontario resident, Cristina Calcagno, it's also a place of inspiration and opportunity.
After years of visiting Meaford regularly with her family, Calcagno has recently begun selling her hand-crafted goods which include ornaments, handmade soaps, and knitted goods at the This n That Vendors Market on Sykes Street.
Calcagno and her family have been visiting Meaford all her life to enjoy the natural beauty and to go fishing, and she is thrilled to share her love of crafting with the community.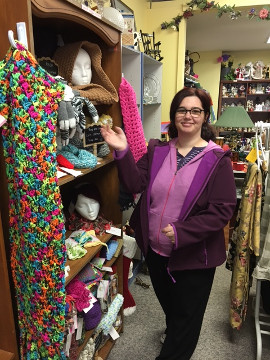 "My niece Cristina has been coming to Meaford since she was born. My uncle and father always loved coming to Meaford to fish. So for years we came from the city and would fish as a family in Meaford. Eventually, my uncle and parents purchased a hobby farm in Meaford. My sister, brother and I grew up coming up to Meaford, and now we all have our own families and we all still enjoy coming," Calcagno's aunt, Velia Viola, told The Independent. "Cristina is a special needs young adult, and has been motivated to showcase her crafts at the This n That vendors market ever since it opened. We are so proud of her accomplishments and wanted to share with all the people in our most favourite place, Meaford, that Cristina has finally filled her shelf at This n That."
Since the vendors' market first opened, Calcagno has had dreams of selling her crafts at the location.
"When the This N That Vendors Market opened up, Cristina was thrilled with the possibility to fill a shelf with her crafts. She spoke about the shop often," said her aunt. "This took planning, organizing, and will to get this done."
When she's not crafting or fishing, Calcagno also enjoys visiting Meaford's Dairy Queen as well as the Farmers' Market where she hopes to also sell her crafts this summer.
"It's a great thing to feel part of a community," noted her aunt.