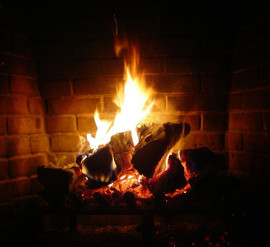 On May 8, 2017 at approximately 3:55 p.m., Grey County Ontario Provincial Police (OPP) responded to a report of a fire at a residence on Grey Rd. 3 in the Township of Georgian Bluffs.
Inter-Township Fire Department attended and extinguished the fire which was deemed to be non-suspicious. The fire started after gasoline was used in an effort to ignite the wood in the fireplace.
A 17-year old male who suffered minor injuries and a 38-year old female fled the residence which had sustained severe damage. No one required hospitalization.
Grey County OPP caution residents - never use highly flammable materials such as wrapping paper or gasoline in a wood stove or fireplace. These substances can create dangerous fireballs in an instant and, just like burning too much wood at once, can cause a buildup of flammable materials in your chimney or stove pipes.
Always use a screen in front of the fireplace, and never leave children unattended by a fire. Have a fire escape plan for your house and regularly review it with your family. Keep a working fire extinguisher in an accessible location.
For wood-burning-fireplace safety tips visit: canadasafetycouncil.org/campaigns/woodstove-and-wood-burning-fireplace-safety.