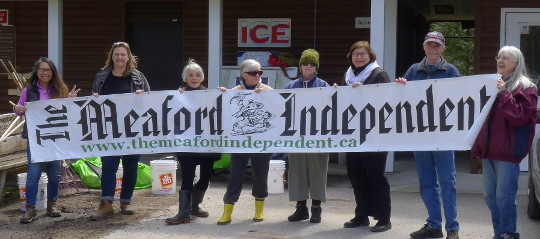 A small but mighty group of volunteers braved chilly winds and soggy ground to help with the annual Earth Week Memorial Park clean-up sponsored by The Meaford Independent.
Meaford's annual Earth Week initiative finished a week later than planned after the annual Memorial Park clean-up had to be postponed until Sunday, May 7, due to weather. The clean-up had originally been scheduled for April 30 and would have concluded a week of Eco-friendly events including the annual Re-Use and Eco Fair, however rainy weather caused the event to be postponed for the first time in its seven-year history.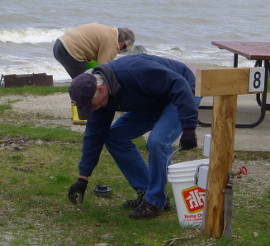 While the sun was shining on Sunday, May 7, cold winds and damp ground after several days of steady rain meant that the volunteers had to be bundled up in warm coats and hats, while rubber boots and latex gloves were the fashion of the day.
To protect plant life in the park, volunteers stayed out of the forested areas this year, and instead focused on picking up trash from the park and beach area as well as the campgrounds.
The Meaford Independent, along with the Friends of Memorial Park, thank all of the volunteers who took time out of their Sunday afternoon to join us for what has become an annual tradition – including some hot apple cider and snacks to warm up and re-energize after the clean-up!