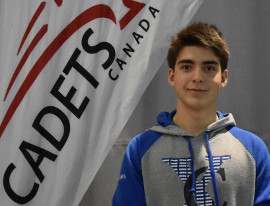 Cadet Braden Lohnes from 167 A/M Bishop Squadron, Royal Canadian Air Cadets in Owen Sound, competed in the Regional Cadet Marksmanship Competition on April 22 and 23 in Trenton.
Earlier this spring cadet corps and squadrons competed in local cadet marksmanship competitions in hopes of earning a spot to move onto the regional competitions held in Trenton. These cadet athletes are the top marksman out of the 287 units in Ontario.
Teams are comprised of a total of five cadets. Two of the five cadets must fall into the junior category (under 15 years old). The top three teams at the Regional Cadet Marksmanship Competition earn their spot to compete in the National Cadet Marksmanship Competition held in Gimli, Manitoba.
Braden attends St. Mary's High School and enjoys mountain biking, cross-country running, and biathlon.
"The cadet program is great because of the sense of community and the unforgettable experiences that you achieve," said Lohnes when speaking about his experience in cadets.
The Cadet Program is a relevant, credible, and proactive youth development organization, offering the program of choice for Canada's youth, preparing them to become the leaders of tomorrow through a set of fun, challenging, well-organized, and safe activities. A directory of local cadet units can be found by using the 'Find Us' tool on the www.cadets.ca website.
Photo by: Regional Cadet Support Unit Central