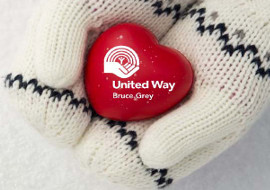 It's been a busy start to the year for the United Way of Bruce Grey.
The organization held its annual general meeting on March 30, when they elected their board of directors for 2017-2018. Among the board members for the coming year are Chair Nick Lovell, and campaign co-chairs Kimberley Love and Stan Didzbalis.
Francesca Dobbyn, Executive Director for the United Way of Bruce Grey, and her team have been busy preparing for upcoming events including the annual Starlight Film Festival and the Seniors Fair.
The Starlight Film Festival is a special event for local teens who can enjoy an all-night movie marathon at the Galaxy Cinema in Owen Sound, beginning at midnight on Friday, April 28. The event is one of the organization's largest fundraising events of the year, and the price of admission for the 14 to 18 year olds includes bottomless pop and popcorn, and unlimited video games.
Another major annual event for the organization is celebrating its 10th anniversary this year. The 2017 Seniors' Fair is being held on Wednesday, June 7, at the Harry Lumley Bayshore Community Centre in Owen Sound. The event, which helps celebrate Seniors' Month with information about products and services aimed at seniors, their families, and their caregivers, features more than 85 exhibitors, four seminars, and entertainment throughout the day. The first 300 visitors will receive a free flower and a gift bag of goodies.
In addition to planning for annual events, the local United Way has also been busy helping to support local organizations. More than $155,000 in grants to the community have been announced, including funding to assist a long list of organizations such as the Canadian Mental Health Association, Keystone Child, Youth & Family Services, and Victim Services Bruce Grey Perth.
More information about the United Way of Bruce Grey can be found on their website: www.unitedwayofbrucegrey.com.