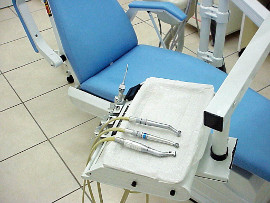 Local dental office, the Meaford Dental Clinic, will be hosting a free dental clinic on April 22. The event will take place at their office located at 39 Nelson Street, across from the LCBO.
"This one-day dental clinic is intended to reach the members of our community who may be facing financial hardship and have otherwise not received the basic dental care necessary to lead a healthy, happy life," said Dr. Uros Jovovic, owner and dentist at Meaford Dental Clinic. "I am incredibly proud of our team for donating their time and expertise to help people in our community."
"The Meaford Dental Clinic is a locally owned dental clinic offering a full range of quality dental care treatments conducted by an oral care team that includes skilled professionals who are well versed in the latest dental technologies and procedures," the clinic explained. "In addition to preventative and restorative procedures, Meaford Dental Clinic offers cosmetic dentistry, implants and dentures."
The clinic noted that due to limited capacity, priority will be given to "those with discomfort, visible conditions, and those who have not had an oral hygiene cleaning in years. Applicants are restricted to those 19 years of age and older as the government of Ontario has programs set in place to financially assist children in need."
Those wishing to be considered for inclusion in the free clinic must apply by April 14, by sending an email to info@meaforddentalclinic.ca with the subject heading: Free Dental Clinic.
The following information should be included within the email in a concise and clear manner:
Name, date of birth, mailing address, phone number, email address

Date of last dental exam and any concerns/issues addressed at that appointment

Describe your PRIMARY dental concern

Describe how you would benefit from dental treatment

Describe the barriers that have prevented you from receiving basic dental treatment

Please describe the current condition of your oral health. For example, are you a smoker? Do your gums bleed excessively? Do you have several chipped/broken teeth?
For information regarding Ontario Government programs geared towards children's oral health, you can visit bit.ly/healthysmileson.
For more information about the Meaford Dental Clinic, visit www.meaforddentalclinic.com.