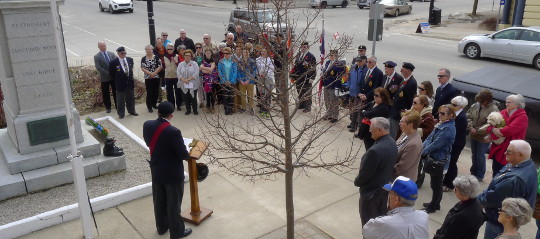 Meaford residents gathered at the Cenotaph downtown to join millions of Canadians across the country in commemorating the 100th anniversary of the Battle of Vimy Ridge on Sunday April 9.
Tony Bell of Meaford's Royal Canadian Legion, Branch 32 shared some of the history of the legendary battle that has often been described as a defining moment for Canada. Bell talked about the preparations for the battle, the ultimate victory, and the thousands of lives lost.
The Canadian Corps was ordered to seize Vimy Ridge in April 1917. Situated in northern France, the heavily-fortified seven-kilometre long ridge provided the enemy with a commanding view over the Allied lines. The Canadians would be attacking over an open graveyard since previous French attacks had failed with over 100,000 casualties.
The Battle of Vimy Ridge was the first time that all four divisions of the Canadian Expeditionary Force participated in a battle as a cohesive unit, and the battle has become a Canadian national symbol of achievement and sacrifice.
Canadian troops earned a reputation as formidable, effective troops because of the stunning success at Vimy Ridge. But it was a victory at a terrible cost, with more than 10,000 Canadian soldiers killed and wounded.
"70 percent of our men were wounded or killed," Bell told those that had gathered at the Cenotaph. "Imagine that, the equivalent of the entire population of Meaford wounded or killed."
Vimy became a symbol for the sacrifice of our young nation. In 1922, the French government ceded to Canada in perpetuity Vimy Ridge, and the land surrounding it. The gleaming white monument there was first unveiled in 1936.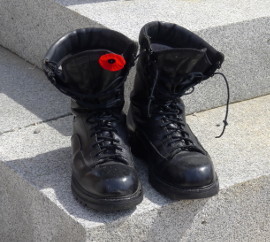 In northern France on Sunday, where some 30,000 Canadians and dignitaries, including Bruce-Grey-Owen Sound MPP Bill Walker, gathered to commemorate the anniversary, 3,600 pairs of combat boots, each bearing a poppy were placed in the fields to represent each of the Canadians lost in the battle.
A pair of combat boots was also placed at the base of the Cenotaph in Meaford in recognition of the lives lost during what would become one of Canada's defining moments in history.