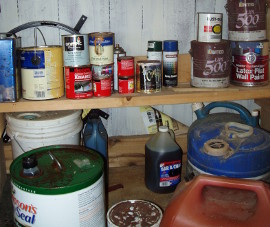 The first Household Hazardous Waste Day of 2017 will be held at the Public Works Facility at 1900 20th Street East from 9 a.m. to 2 p.m. on Saturday, April 8.
This popular program is open to residents from the following municipalities:
City of Owen Sound;

Township of Chatsworth;

Township of Georgian Bluffs;

Municipality of Grey Highlands;

Municipality of Meaford;

Municipality of West Grey.
In addition to normal hazardous materials, the program now accepts fluorescent tubes and compact fluorescent lamps in the following quantities:
Up to four 4-foot fluorescent tubes per visit.

Up to ten compact fluorescent lamps (CFLs) per visit.
Hazardous waste cannot be accepted from commercial, industrial, or farm operations. For a complete list of what is accepted, and to download a copy of the Hazardous Waste Report form (that can be completed before arrival), residents are asked to visit the City website at: www.owensound.ca/hazardous-waste.
There will be seven more Household Hazardous Waste Days in 2017: May 6, June 3, July 8, August 12, September 9, October 14, and October 28.