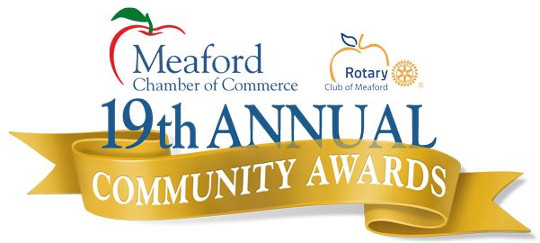 The Meaford Chamber of Commerce has announced the nominees for this year's Community Awards.
This year the Chamber received 47 nominations, recognizing 34 different people, groups, and businesses across the eight award categories.
Businesses nominated are: 365 Sports, U-Catch-Em, Knight's of Meaford hockey team, McGinty's Café (2) , Krystal Klear Photography, Leaky Canoe, Grandma Lambe's, Ride on Bikes, My Favorite Marketer, Hear Well Be Well, Christine's Kitchen, Meaford Maid Service, Harbour Microtrends, Georgian Bay Physio, Dr. Jim & Nancy Wong, Ryan's Repair, Amici Pizzeria & Family Restaurant, and The Shoe Tree.
Individuals nominated are: Ed Ormsby, Larry and Heather Parkin, Harley Greenfield (2), Chris Scerri, Wayne Kipp, Shirley Keaveney, Nancy Ellis, Paul and Mary-Jo Osborn, Bill Monahan (2).
Honorable mention goes to Jody Seeley(2), Mutable Arts, Amici, Harley Greenfield, Meaford Museum, E&R Bulk Bin, and Municipality of Meaford, who all received great nominations but that nomination did not meet the criteria for the category they were nominated in.
The awards will be handed out April 8 at the 19th Annual Community Awards Gala event that is once again being held at the Meaford Community Centre. Tickets for the event are available from the Chamber office at 51 Berry St., The Shoe Tree, or from Rotary club members.