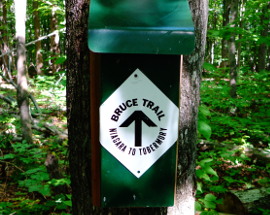 The Bruce Trail will be 50 years old this year! To help celebrate the 50th anniversary, the Bruce Trail Club will relay a ceremonial 50th Anniversary baton along the entire length of the Trail, travelling from Niagara to Tobermory.
The baton will be carried by volunteers in all nine clubs. The baton will be presented to the Niagara Club April 1, and passed on to successive Clubs until it reaches the northern terminus cairn in Tobermory on June 10, marking the 50th Anniversary of the official opening of the Bruce Trail.
"The baton will arrive in Sydenham section on May 15, at Blantyre. We have planned a series of day hikes, averaging 10 to 14 km per day, until May 27, when we will pass the baton on to Peninsula Club in Wiarton," notes the Sydenham Bruce Trail Club.
The club is encouraging those interested to join them to celebrate as the baton passes through our area. You can follow #brucetrailbaton on Twitter, Instagram, and Facebook, for posts and photos.
Contact Hiker Frank at sydenham.bt50@gmail.com for more information or to sign up for any of the baton hikes.