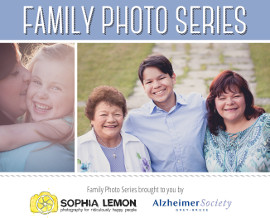 On Friday, April 14, local photographer Sophia Lemon will host a family photo series at the Grey Sauble Conservation Authority Administration Centre and Arboretum.
Each session will include a 20-minute shoot with up to six family members and a framed print for $243 including tax. The profits from each session will be donated to the Alzheimer Society of Grey-Bruce to be spent assisting persons with dementia and their care partners.
"My passion is preserving memories," says Sophia. "As a photographer I help people capture their happiest moments so that they can relive them daily. I understand how devastating it can be to lose that connection with the past."
Memory loss, while not the only symptom of dementia, remains the most well-known and is often one of the first symptoms that people recognize in themselves. Family photos can do more than bring a smile to your face. They can often bring persons with dementia comfort in difficult and confusing times by reconnecting them with fond memories and a sense of stability.
Participating families will be given the opportunity to share a message of support for the 4,000 people in Grey-Bruce who are living with a diagnosis of dementia. Deborah Barker, Executive Director of the Alzheimer Society Grey-Bruce, notes that "public demonstrations of support help raise awareness and alleviate some of the stigma associated with dementia. They are an easy step we can take towards creating an inclusive and dementia-friendly community."
The Alzheimer Society of Grey-Bruce is a locally incorporated charity. All donations remain in this community to help fund programs and services which directly benefit people with dementia and their care partners. If you or someone who know has questions or concerns about dementia please visit the website at www.alzheimer.ca/greybruce or contact the office at (519) 376-7230.
Families can sign up for their session at http://happyp.pl/familyportraitseries.
For more information about this event, please contact Sophia Lemon by calling or texting (226) 974-0977, or by email at sophia@sophialemon.com.