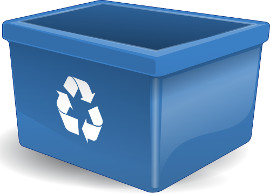 The Municipality of Meaford has announced that effective April 1, Miller Waste will no longer accept Styrofoam, including all #6 materials, as recycling and those items will now have to go into the garbage stream.
The reason for discontinuing this program is due to the lack of any market accepting this material for reuse. The company that had been taking Styrofoam for recycling recently closed down, and Miller Waste has not found an alternate market for the items.
"Please do not put Styrofoam, including #6 materials, into your blue box or take it to the recycling depot effective April 1st, 2017," requested the municipality in a press release issued on Tuesday, March 14. "Except for large packing Styrofoam, all other Styrofoam products must be placed in your tagged garbage bags. The large packaging Styrofoam can still be put in a clear plastic bag and placed out with your garbage on your scheduled garbage day. No bag tag will be required for this clear bag, however the bag will part of the three-bag limit for garbage."
Look for Meaford's new Mobile Waste App for Android and Apple, as well as the updated Waste section of the municipal website to be available on April 1. Among other features, the app will allow residents to search products to find out how to dispose of them.