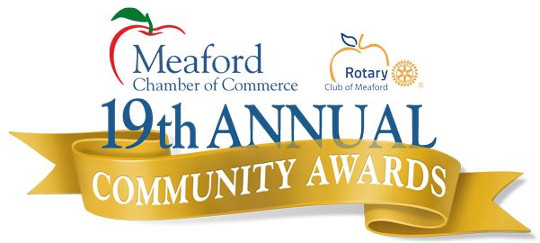 The Meaford Chamber of Commerce has announced that nominations are now being accepted for the 19th Annual Community Awards in partnership with the Rotary Club of Meaford.
"Please consider nominating a business, organization, or individual for their efforts in 2016," suggests the Chamber. "There are many different categories, each directed at a different area of service to our community. We are proud to bring back the ever popular "Farmer of the Year Award" again this year as a way to honour the hard work and dedication of our community members from the Agricultural field of business."
See below for a complete listing of all of the awards and send your nominations in:
Farmer of The Year Award
For the betterment of agriculture and rural living in the Municipality of Meaford
Sponsored by: Earth Power Tractors & Equipment
Most Improved Business Award
Presented to an existing business that has significantly expanded and/or improved or enhanced the business premises making the community more attractive
Sponsored by: BrokerLink Insurance
Tourism Award
An award presented to a business with a commitment to local tourism through a welcoming attitude, awareness, and promotion of local attractions
Sponsored by: Third Line Homes
Customer Service
Presented to a business that consistently goes out of its way to provide superior service to its customers
Sponsored by Knight's of Meaford
Agribusiness
Presented to an agribusiness that has invested in sustainable farming practices and has successfully developed innovative products, processes and marketing channels
Sponsored by: TD Canada Trust
Special Merit Award
Presented to a volunteer organization or service club for exceptional effort over the past year that has enhanced the quality of life within our community
Sponsored by:Municipality of Meaford
The Peter Francis Memorial Award
Presented to an individual who has demonstrated exemplary volunteer leadership over many years and who has made a significant contribution to community development in the Municipality of Meaford. This individual must exhibit strong leadership through example. This is a lifetime achievement award. (Note: this award will not necessarily be awarded each year).
Sponsored by: Meaford Chamber of Commerce
Business Owner of the Year
Presented to an owner who has made an outstanding contribution to the Municipality of Meaford. Demonstrates:
Leadership within a business

Dedication to the betterment of the whole community

Good citizenship

Care for the environment

Sound employee relations
Sponsored by: Meaford BIA
The Awards will be presented on Saturday, April 8 at the Meaford & St. Vincent Community Centre during the 19th Annual Community Awards Dinner & Presentations. Tickets for this gala event include a catered meal and are available at the Meaford Chamber of Commerce Office ($55 each).
For more information please contact the Meaford Chamber of Commerce at 519.538.1640.
Nomination forms are available online at www.meafordchamber.ca or in person at the
Meaford Chamber of Commerce Office, 51 Berry St. in Meaford.