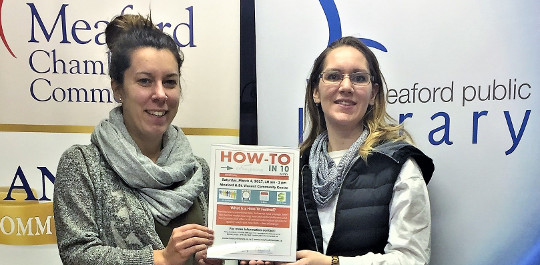 Join in the fun at the second annual How-To in 10 Festival on Saturday, March 4 from 10 a.m. to 1 p.m. at the Meaford and St. Vincent Community Centre. Learn something new, pick up a skill, and have some fun.
The How-To in 10 Festival is a hands-on learning event, cohosted by the Meaford Public Library and the Meaford Chamber of Commerce. Participants can try to make a scarecrow hat, play a drum, or brush a dog's teeth, among many other how-tos. It is a great opportunity to try something new and make great connections with Meaford businesses and organizations.
The How-To in 10 is free to attend however a small donation would be appreciated.
Photo: Bethany Rupp, Meaford Chamber of Commerce Manager (at left), and Meaford Public Library Outreach Coordinator Amy Jennison are co-hosting the How-To in 10 Festival.