Details

Published: Friday, 01 August 2014 09:12
Written by Staff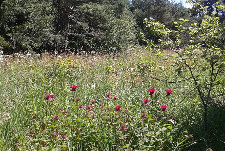 Nestled just outside Meaford is a native pollinator and habitat garden sanctuary at the Beaver Valley Flower Farm, where birds, butterflies, bees, toads, and other little creatures can find food, water, cover, and a place to raise their young. It is a place where there are no pesticides or herbicides used that would be unhealthy for these creatures or for people. It's a place that's full of life - indeed, a very exciting place to be!
Upon arriving 30 years ago, one of the first things that Anastasia Sparling, the landowner, did was plant spruce and pine trees. In the years that followed, Anastasia decided to intentionally create a native pollinator sanctuary. In the now five-acre experimental and demonstrational sanctuary which is allowed to be natural, there is a combination of cultivated, native and non-native plants.