Details

Published: Friday, 12 August 2016 10:33
Written by Staff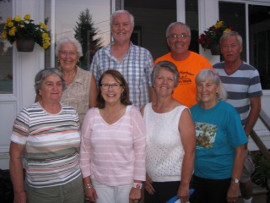 What would nineteen senior adults be doing sitting around a garage on a Wednesday night? Actually, that is exactly where the final gathering of the 4-3-2-1 lawn bowling season happened.
They gathered, of course, for the fellowship, and the prize-giving, but they also gathered to express their heartfelt thanks to Shirley Keaveney, owner of the Meaford Dairy Queen franchise.