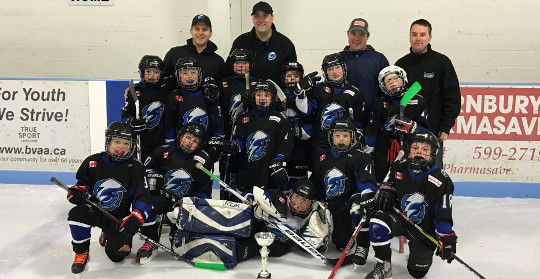 On Saturday March 4, the Georgian Shores Novice Rep Hockey Tournament hosted a six team hockey tournament at the Beaver Valley Arena. After a full day of exciting games, the Georgian Shores Novice Rep team won the championship game and the tournament title in a close final match against Collingwood.
Over 110 players and coaches from Collingwood, Seaforth, Flesherton, Mariposa, West Lincoln and Georgian Shores converged at the arena for a full day of hockey, healthy competition and above all else, fun. Friends, family, community members and hockey fans were treated to an amazing day of hockey.
After round robin play, the C final saw Seaforth defeat Flesherton in a tight 8-7 final. The B final game between West Lincoln and Mariposa was a back and forth affair ending in a tie in regulation. The game went to a 5 minute sudden death and then a shoot out. Mariposa won the B final in the fifth round of the shoot out.
The championship (A final) featured Georgian Shores and Collingwood Novice Rep teams. Both teams came ready to play their best hockey with the championship title on the line. It was a back and forth game with exciting breakaways, blistering passes and tight defense. The teams were equally matched and in the final period of the game Georgian Shores lead Collingwood by a score of 5-4. Collingwood pulled its goalie in the last minutes of play which lead to an empty net goal by Georgian Shores to take a 6-4 lead. Collingwood rallied for one more goal but when the final buzzer sounded Georgian Shores won the game with a final score of 6-5.
"The Georgian Shores Novice rep coaching staff, parents and players would like to thank all of the coaches and players who participated in the tournament and everyone who contributed to this successful day. Parents, family members, friends, arena staff and community members helped with the day, donated prizes, encouraged the players and supported all of the teams involved," said the club.
The Georgian Shores Novice Rep team now looks ahead to the Georgian Bay finals and a Niagara Falls tournament over the March Break.
PHOTO: Back row coaching staff (left to right)
Tim Newton (trainer), Jeremy Acres (Asst. Coach), Grant Murray (Coach), Darryl Hindle (Manager). Middle row (left to right) Drew Acres, Hayden Stroud, Jake Murray, Emmett Shipprack, Hudson Potts, Natalie Book, Colton Steen. Front row (left to right) Carter Kirkpatrick, Luke Newton, Carter Shaw (goalie), Bryce Potts, Hayden Hindle.