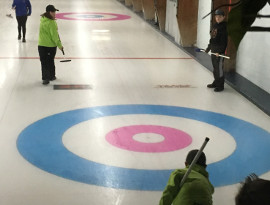 Two Meaford curling teams travelled to Markdale on Saturday, February 18, for the Elementary School bonspiel. They each played two six-end games. The rinks were comprised of a mixture of elementary school-aged curlers - four of them competing in their first bonspiel.
Cameron Lewis, Ally Pendleton, Sawyer Woodhouse, and Abby Johnston lost their first game against Hanover in a draw to the button after being tied after six ends. They won their second game 9-3 against Chesley. They went on to be the third-place team of the day.
Alex McNally, Madison Saunders, Logan Saunders, and Wesley Brown played Dundalk in their first game with a 9-0 victory. They faced Alliston in their second game and came out on top with a 6-4 win. Their efforts earned the team first place on the day.
"A big thanks to the more experienced curlers Cameron, Madison, Alex, and Ally for their leadership and encouragement. Congratulations to Sawyer, Abby, Logan, and Wesley for their initiation into the fun world of bonspiel curling. A job well done! Thanks, parents, for your support and cheering," said team organizers.
Photo: Wesley Brown prepares to deliver his stone with Madison Saunders and Logan Saunders ready to sweep