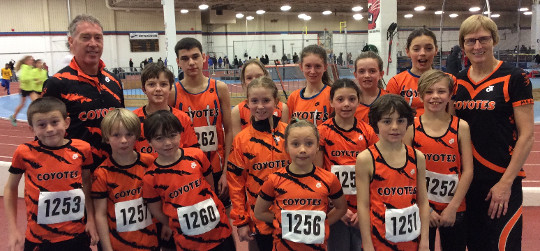 On a beautiful sunny, warm day outdoors, the Meaford Coyotes Track Club took 15 young members to the Mississauga Olympians Indoor Track Meet at York University on Saturday, February 18.
"This was one of our team's selection meets, as we will be attending the Athletics Ontario Indoor Provincials in two weeks' time and the Ontario Minor Track Provincial Championships in five weeks. We would like to thank Maurita Baker and Knight's Home Building Centre for covering our race fees for this weekend," said team coach Kevin Hooper.
The Coyotes racked up several strong performances on the day with each member competing in two events.
Kara Tichbourne [Meaford, Grade 6], led the way with two gold medals in the Atom Girls 800m and 1500m. Taryn Lee [Owen Sound, Grade 4] hauled home a gold and silver of her own in the Tyke Girls 800m and 1200m, setting two personal best performances. Her 800m time of 2:51 was only three seconds off the old provincial record of 2:48, which was broken on Saturday by two seconds. She also knocked a huge 13 seconds off her 1200m time. Olivia Latham [Owen Sound, Grade 3] took bronze in the Tyke Girls 1200m and knocked a whopping 18 seconds off her time. Ethan Pentland [Durham, Grade 8] also ran a very aggressive Senior Boys 1500m. He had a huge drop of 12 seconds in his best time as he took 5th spot.
"Along with our 12 medals on the day, also exciting were the 15 personal best performances," noted Hooper.
The Team returns to action on March 4-5 for the Athletics Ontario Provincial Championships at York University.
Results: [* = personal best time]
Mite Boys 400m [2009-2010]
Brennan Law [2009] - 4th/7 @ 1:31.13
Mite Boys 800m [2009-2010]
Brennan Law [2009] - 1st/2 @ 3:20.38*
Tyke Girls 800m [2007-2008]
Taryn Lee [2007] - 2nd/4 @ 2:51.88*
Olivia Latham [2008] 3rd/4 @ 3:09.16
Tyke Girls 1200m [2007-2008]
Taryn Lee 1st/3 @ 4:26.6*
Olivia Latham 3rd/3 @ 4:43.2*
Tyke Boys 400m [2007-2008]
Luke House [2007] - 1st/9 @ 1:20.96*
Cole Gillis [2007] - 4th/9 @ 1:27.23*
Edmund McPherson [2008] - 8th/9 @ 1:34.11
Tyke Boys 800m [2007-2008]
Cole Gillis [2007] - 6th/7 @ 3:28.87
Edmund McPherson [2008] - 7th/7 @ 3:42.92
Tyke Boys 1200m [2007-2008]
Luke House [2007] - 2nd/5 @ 4:35.6*
Atom Girls 800m [2005-2006]
Kara Tichbourne [2005] - 1st/16 @ 2:37.53
Payton Dodd [2005] - 3rd/16 @ 2:41.36*
Grace Boyce [2005] - 6th/16 @ 2:52.07 *
Sydney Martin 2005] - 14th/16 @ 3:04.88
McKenna Karn [2005] - 16th/16 @ 3:19.65
Atom Girls 1500m [2005-2006]
Kara Tichbourne [2005] - 1st/14 @ 5:18.3
Payton Dodd [2005] - 3rd/14 @ 5:40.0
Grace Boyce [2005] - 4th/14 @ 5:42.2*
McKenna Karn [2005] - 11th/14 @ 6:10.3*
Sydney Martin [2005] - 13th/14 @ 6:11.8
Atom Boys 800m [2005-2006]
Devlin Gillis [2005] - 6th/14 @ 2:47.15
Atom Boys 1500m [2005-2006]
Devlin Gillis [2005] - 6th/9 @ 5:27.0*
Senior Girls 800m [2003-2004]
Olivia Karn [2003] - 4th/31 @ 2:36.46
Senior Girls 1500m [2003-2004]
Olivia Karn [2003] - 3rd/15 @ 5:14.2
Senior Boys 400m [2003-2004]
Ethan Pentland [2004] - 9th/19 @ 1:02.54*
Jeffrey McPherson [2004] - 19th/19 @ 1:22.78*
Senior Boys 800m [2003-2004]
Jeffrey McPherson [2004] - 17th/18 @ 3:05.6
Senior Boys 1500m [2003-2004]
Ethan Pentland [2003] - 5th/18 @ 4:45.8*