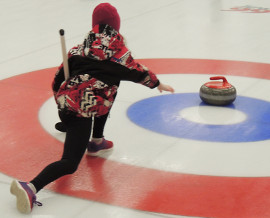 The challenge for the future of curling is how to engage youngsters in the game at an early age, and at Meaford Curling Club this challenge has been up front and centre for a number of years.
With lots of competition from other sports, the question has always been how to make this game fun, rewarding, and inexpensive for young people. With the passage of time the club's efforts have matured to the point where there are now thirty-three weekly participants aged from Grades one to eight.
This is the introductory year for 'Curling 101' through Rock Solid Productions, and Meaford Curling Juniors were lucky enough to be invited to participate as one of 35 schools in Canada. For the first year of a two-year commitment the Rocks and Rings is free, although Rocks and Rings has been enjoyed for many years in our local schools, with the support of Meaford Curling Club. Rock Solid Productions additionally provided promotional material and lesson plans for a Family Introduction Day in November, where everyone got to go out on the ice to find out what curling is all about.
The club says that the net result is very gratifying. Every Monday afternoon after school, the curling rink is swarmed by dozens of excited youngsters learning how to deliver, sweep, and of course 'Hurry Hard'. They are also taught how to keep score and observe curling etiquette. Some of them have even played in junior bonspiels, and some of the Grade eight curlers mentor the younger ones.
"Of course, none of this could happen without a team of tireless volunteers. Jennifer Pearson and Tracy McNally are the Junior Curling organizers, assisted by Sandy Eagles, Wendy Rogers and Allison Lewis. They all deserve a tip of the hat for their willingness to coach these budding curling champions," said the club.
To further encourage junior curling Meaford Curling Club charges only a nominal $50 per student for six weeks of curling and tuition, beginning each January.
No more students are being accepted for this season, but stay tuned. Parents and students should watch for information in schools this upcoming fall. Anyone wishing to know more about this programme can contact meafordcurling101@gmail.com.