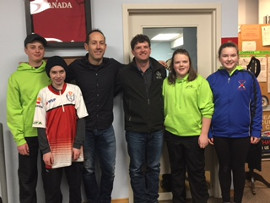 A team of local curlers arrived for their regular practise Wednesday, February 8, at Meaford Curling Club and they were treated to a surprise.
Brent Laing, current World Men's Curling Champion, and friend and former Junior teammate Andy Ormsby joined the young curlers on the ice.
The team had a chance to practise many elements of their game with Laing and Ormsby. At the conclusion of the practise, Laing surprised each curler with a signed jersey from his various curling events.
The Bamtam team is halfway through their season and is preparing for this weekend's Ontario Curling Association's U15 in Clinton. They have enjoyed their visits to Collingwood, Coldwater, and Shelburne, and later this month they will be in Markdale and Tara. They will end their season as they compete, once again, in the Timbit's Elementary School Provincial Curling Championships in Chesley.
The team consists of Alex McNally, Ally Pendleton, Cameron Lewis, and Madison Saunders.
Group photo: Left to Right: Cameron Lewis, Alex McNally, Brent Laing, Andy Ormsby, Madison Saunders, Ally Pendleton