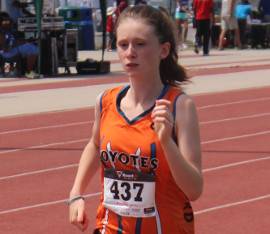 Olivia Karn, a grade 8 student from Coldwater, and a member of the Meaford Coyotes Track Club, has been selected to the Ontario Midget Track Team. She will be competing at York University on Saturday, February 11, at the Ontario-Quebec Midget Dual Meet and will be racing in the 800m event.
"This is a wonderful achievement as she is only a first year Midget and has the opportunity to make the team again next year as well," noted team coach Kevin Hooper.
Karen placed third in the 800m at the Midget Team Selection Meet on Saturday, January 28th. She also won the Athletics Ontario 2016 "Top 13 years and Under Middle Distance Runner" award last Fall.
Olivia has only been running with the Meaford Coyotes for two years and has continued to improve as each season passes. Her best time for the 800m is 2:22.18.
"Congrats Olivia! We know you will have an awesome race and make the Coyotes even more proud!" said the club.