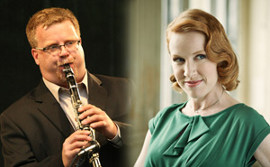 Start off your 2017 with The Music of Benny Goodman at Meaford Hall on January 14; a performance that will feature musical memories of such hits as Memories of You, Moonglow, Airmail Special, Slipped Disc and many more. This stellar evening is not-to-be missed, showtime is 8pm Saturday January 14.
From 1935 to 1961, Benny Goodman was a world leader in the field of small-group jazz: breaking racial boundaries, introducing unforgettable talent like Lionel Hampton and Teddy Wilson to the world, and becoming a jazz trend-setter with his trio, quartet and sextet. Canada's Clarinet King Ross Wooldridge presents a dynamic and engaging retrospective of those groups, fronting an outstanding ensemble featuring world class musicians including Order of Canada member Don Thompson on vibes and Canada's Sweetheart of Swing Alex Pangman, with period perfect interpretations of hits of the era.
The talented seven-piece band includes Ross Wooldridge (clarinet), Michael Davidson (vibes), Danny McErlain (piano) Phil Disera (guitar), Lew Mele (bass), Glenn Anderson (drums) and the lovely and talented Alex Pangman (vocals). Together, they bring the music of The King of Swing to life.
Don't miss this opportunity to hear all the Benny Goodman music you know and love in the Opera House at Meaford Hall Arts & Cultural Centre. Showtime is 8pm Saturday January 14, tickets are $40 and available online at www.mefordhall.ca, by calling 1.877.538.0463 or stop by the box office at 12 Nelson St E.