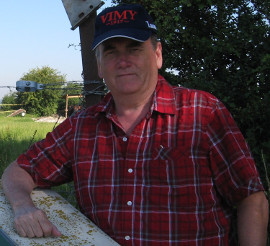 Local author George Auer will appear in the Meaford Public Library's next Koffee House Reads event at Tilly's Café and Bakery on Monday, May 15 at 2 p.m.
George Auer joined the Canadian Armed Forces in 1976 where he served with the First Battalion, Princess Patricia's Canadian Light Infantry. His final posting was to the Grey and Simcoe Foresters in Owen Sound. While serving in this unit, Auer discovered the rich military history of Grey County. Much of his personal research can be found in his book Soldiers of the Soil: Grey County Goes to War: 1914-1918.
Auer's book, Soldiers of the Soil, was winner of an Owen Sound Cultural Heritage Award and the Grey County Historical Society's Certificate of Recognition. The book highlights the battles of 1917 and the role of the 147th Battalion, beginning with Vimy Ridge and ending with the Battle of Passchendaele.
Tickets are $5 per person and include a beverage and dessert. There are a limited number of tickets for this event. Stop by the library to get yours today.
For more information, contact the library at 519-538-1060 ext. 1123 or email: info@meafordlibrary.on.ca