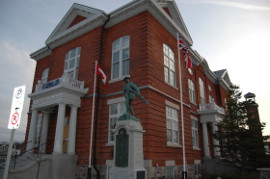 It's no secret that 2017 marks Canada's 150th birthday, but this year is also a special one for the Grey County Historical Society, which is celebrating its 50th anniversary. To recognize both milestones, the organization has brought together four local community theatre groups to stage a variety show highlighting some interesting stories from Canada's past.
"On May 17, the Grey County Historical Society is having their annual general meeting at Meaford Hall," Harley Greenfield told The Independent. "They're having a catered dinner, and then after the dinner, four local community theatres are getting together and putting on a presentation."
Community theatre groups from Owen Sound, Meaford, Rocklyn, and Feversham will each stage a 20-minute vignette depicting historic events in the Grey County area. Greenfield, who is a member of the Meaford Community Theatre group, said that musical accompaniment will be provided by local favourites The Merrifields. The overall theme of the dinner and variety show is celebrating the 150th birthday of Canada in Grey County. The GCHS has received grants from Canada and Ontario 150 organizations to help offset the costs of the event.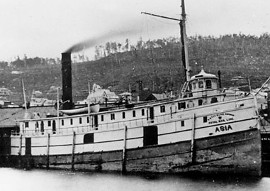 Greenfield said that the vignette presented by the Meaford Community Theatre will tell the story of the SS Asia, which sank in Georgian Bay in 1882.
"The Asia was the worst loss of life in a shipwreck on Georgian Bay, with 123 people lost, and there were only two survivors. One was a 17-year-old boy, and the other survivor was an 18-year-old young lady named Christie Ann Morrison from the Bognor area, so there's a local connection," Greenfield explained.
Marjorie Davison of the GCHS said that the red and white colours of the Canadian flag will be prominent at the event.
"It's the 50th anniversary of the Grey County Historical Society, but it's also the 150th birthday of Canada so our theme decor for the dinner will be the traditional red and white because we're honouring Canada's birthday as well."
Tickets for the play are available now from the Meaford Hall box office at a cost of $20. There are a limited number of tickets still available for the dinner and show at a cost of $50. Dinner tickets can be purchased from GCHS board members.
The GCHS 50th Annual Dinner will be held at 6 p.m., on Wednesday, May 17 at Meaford Hall, with the variety show beginning at 8 p.m.
More information can be found by visiting the GCHS website at www.greycountyhs.ca, and ticket information for the show can be found on the Meaford Hall website, www.meafordhall.ca.