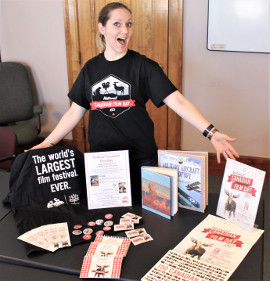 The Meaford Public Library will celebrate National Canadian Film Day on Wednesday, April 19, and will spotlight two local legends ‒ Tom Thomson and Billy Bishop.
West Wind: The Vision of Tom Thomson will be shown at 1 p.m. at the Woodford Community Centre. This enlightening documentary includes never before heard interviews and letters from and to Tom Thomson as well as rarely seen paintings. Virginia Eichhorn, Director and Chief Curator of the Tom Thomson Art Gallery, will lead a discussion after the film.
At 4 p.m., the 2011 TIFF Film Billy Bishop Goes to War will be shown. A film adaptation of the play, it features an aged Billy Bishop recounting his days as a farm boy from Owen Sound to a World War I flying ace. Fred McKay, the nephew of Billy Bishop, will speak after the film.
National Canadian Film Day is an initiative of Reel Canada, a non-profit organization that promotes Canadian film throughout the country. On this day, all Canadian films can be aired in public, license free.
Both events are free of charge, however space is limited. Please register at the Meaford Public Library in advance.
"We hope you will join us to watch these two great Canadian films at the Woodford Community Centre!" said the library.
For more information, please visit www.meafordlibrary.on.ca, call 519-538-1060 ext. 1123, or email: info@meafordlibrary.on.ca
Photo: Amy Jennison is shown with material for the National Canadian Film Day celebration