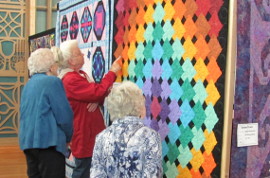 Spring is in the air, flowers are starting to poke their heads out, and the plans for the annual United Church Women's group (UCW) Quilt Show at Meaford United Church are well underway.
This year's show will be held on April 21 and 22 at the Meaford United Church on Boucher Street.
The first UCW quilt show was the dream of Viola Hubbard, who had visited a quilt show in Whitby. She was very impressed, and came home with the idea that Meaford should start having a quilt show as well. In 1992, her dream came true and the first UCW quilt show was held in the spring of that year. Florence Brown served with Viola on the first committee and is still active on the committee today.
That year 70 quilts were displayed, most done by local quilters. There were also two quilters from Whitby who brought their quilts to show. One of the quilts had won at the Agricultural Society Provincial level, and the other had won a national competition in Ottawa. Admission to the first show was $3, and approximately 200 people enjoyed the quilts that year.
Since its beginning, the quilt show has steadily increased in the number of displays and people attending the show. It is well known among area quilters and non-quilters to be a quality show, offering new work each year beautifully displayed in the church. The quilt exhibits attract visitors from near and far.
Prizes are awarded for viewers' choice in three categories: hand quilted, machine quilted, and small item. Viewers vote on their favourite in each category and it is always a difficult decision. Every year, only items that have not been exhibited at the UCW show previously are accepted, except for the winners from the previous year. Those items are displayed, but cannot be voted on.
In addition to bed quilts, exhibits include many small quilted items, such as table runners, placemats, wall hangings, and quilted bags. Each show is now theme-based, and includes displays related to that theme. Some themes over the years have been teddy bears, antiques, and Christmas in April. Demonstrations of quilt-related techniques have been added, drawing on many talented local people showing their skills to interested viewers. Members of our local quilt guild, The Georgian Quilters, also take an active part in the UCW show. Many of the guild members display their work as well as demonstrating different quilting techniques each year.
New to the 2017 show is having a quilt appraiser on site during the two days of the show. Rosalie Tennison, of Newmarket, will be on hand to appraise quilts for quilters who would like to find out the value of their treasured works of art. There is a fee of $60 per appraisal, and anyone wishing to take advantage of this service must make an appointment in advance by phoning 519-538-0971 or by e-mail dorothy.s@sympatico.ca.
Viola Hubbard would be very pleased to know that her idea is still carrying on and she is no doubt smiling every April as the doors to the quilt show open.
Don't miss the 2017 show at Meaford United Church, Boucher Street, Meaford, on Friday, April 21, 10-6, and Saturday, April 22, 10-4. Admission is only $5. Lunch is available both days for just $7 and afternoon refreshments for $2.